PABX Systems
PABX is an acronym standing for Private Automated Branch Exchange. This is another way to describe a telephone system. Such systems help customers to manage calls within their business. Customers can use their PABX to do things like;
Share a limited number of lines between a greater number of extensions or users
Forward calls to other people within the business
Call other people within the business by just dialling an internal extension number
Put callers on hold (and play them a message or some music while they wait)
Set up calls to hunt through each line within the business
Implement a call queue system
Implement some push-button options when a caller gets through (e.g. push 1 for..)
Have a voicemail service for each user or an out of hours recorded message
PABXs are sometimes referred to as "Key systems" or even "Commander systems" after one of the most successful brands in Australia.
The diagram below shows how a PABX might look with standard analogue (PSTN) lines.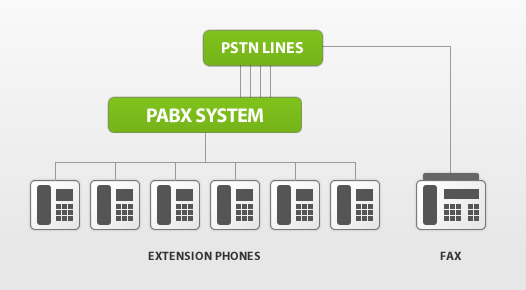 Althought there are many makes and models some common brands you may come across include
Alcatel
Aveya
NEC
Panasonic
Fujitsu
Samsung
Siemens
LG
Contact Telcoplus to assess your needs and arrange a quotation.