Domain Registration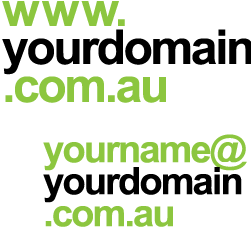 Get Your Own Domain Name & Make Your Business Look Professional
Get a Domain for both your Business Website and Email accounts
Australian Domains
International Domains
All on One Bill
Your internet domain hosted on our servers.
It's a business essential to have your own website domain and email but you don't necessarily have your own servers, so take advantage of our business grade servers in first rate data centres.
Hosted websites with unlimited traffic.
Move Your Domains to us easily. If you have an existing Domain it is simple and straight forward to bring it across to us. Simply give us a call and we will do all the work!
Choose Your Plan
| Domain Extension | Time Period | Fee |
| --- | --- | --- |
| .com.au | 2 years | $55 |
| .net.au | 2 years | $55 |
| .org.au | 2 years | $13 |
| .asn.au | 2 years | $39 |
| .id.au | 2 years | $30 |
| International Domains | 1 - 2 years | Ask us for a Quote |
All prices quoted above Inc GST.
Things You Should Know
The following Terms and conditions apply for Domain Registration services.
All prices quoted is inc GST.
If your application for a domain name is accepted and approved, you will be granted a two year Domain Name License for that domain name.
You are entitled to transfer your domain name registration to another registrar, and we will facilitate such transfer for you according to our obligations under auDA's Published Policies (see http://www.auda.org.au/).
You are bound by the .au Dispute Resolution Policy (auDRP) in relation to your registered domain name, as well as such other dispute resolution policy which may be adopted by auDA from time to time. 6. You accept that our liability and auDA's liability to you under these terms and conditions is limited to the cost of the domain name license.