MyPBX
The All-in-One Business PBX with Advanced Features and Low Cost Calls
Fully Featured Hosted Phone System
Easily managed online
Music on Hold and Hunt Groups included
Flexible Auto Attendant
Voicemail-to-Email & Fax-to-Email
Direct Indial Numbers
No long Term Contracts
Customise Features according to User Needs: Standard, Mobility, Executive
NO Line Rental Costs
FREE Inter-Office Calls
Flat Rate Local & National Calls
Grow as you go simplicity
MyPBX is a monthly licensed service which replaces a traditional PBX. That means less upfront cost, allowing you to keep capital expenditure for other business needs. What's more you can increase or decrease licences as and when you need for simple scalability.
Huge savings on call costs
With FREE calls between offices and flat rate local and national calls, staff can talk for as long as they like without you feeling the pinch.
Features that enhance productivity
MyPBX offers all the advanced features you would expect from a traditional PBX but with some exciting differences. Manage your personal calling profile via our Web Assistant plug in; which can automatically field calls to mobile or voicemail. Remote Office allows you to use your mobile just as you would use your desk phone, dialling other extensions, transferring calls internally and holding 3-way conference calls.
Lower maintenance costs
Unlike traditional PBXs maintenance and changes can be easily managed online, and completed within seconds, not hours. No costs for maintenance agreements, no waiting for technicians.
Plan Options
Hosted
PBX
User Licence
Options
User Feature
Options
Inter-Office Calls
Local
Call
National
Call
Calls to
Mobile
Calls to
13 Numbers
Monthly Access
$12
Standard
$10
Fax-to-Email $7
FREE
11c per call
11c per call
22c per min
33c per call
Hunt Groups: FREE
Hunts Group Enhanced: $2.75
Standard with
Mobility
$15
Web Assistant
$6
Auto Attendant
$16
Executive
$17
Conference Centre $7 Each (min 5)
All prices quoted above Inc GST. $5 per DID Range, (Minimum 10 numbers).
$55 connection fee. $55 Business Hours porting fee* per porting authority form
Features
Smart Routing
MyPBX is a feature rich platform that allows businesses to solve process or resource issues through smart routing of calls.
Feature Rich
We have included the most popular features in our group and standard licences. If there is something that your current system does that isn't on the list, please let us know and we can find a solution to suit.
Expert Support
One of the benefits of working with us is our understanding of the system and how it can work to your business needs.
Group Features
Automated Attendant
Hunt Groups
Music On Hold
Additional User Options
Web Assistant
Conference Centre
Fax to Email
| User Features | Standard | Mobility | Executive |
| --- | --- | --- | --- |
| Call Hold & Transfer | | | |
| Call Forward | | | |
| Call Park | | | |
| Call Pick up | | | |
| Do Not Disturb | | | |
| Speed Dial | | | |
| 3 Way Calling | | | |
| Voicemail to Email | | | |
| Call Waiting | | | |
| Anonymous Call Rejection | | | |
| Line Identification Restriction | | | |
| Automatic Callback | | | |
| Last number redial | | | |
| Simultaneous/Sequential Ring | | | |
| Remote Office | | | |
| Shared Call Appearance | | | |
| Busy Lamp Field | | | |
| Selective Call Forward | | | |
| Call Forward Selective | | | |
| Call Notify | | | |
| Push to Talk | | | |
How it Works
The below diagram shows the ideal way to create a dedicated network for IP Voice within your office. Of course, every office has different networking requirements, involving both your computers and IP handsets, but we can help advise on the best network to accommodate both your voice and data requirements.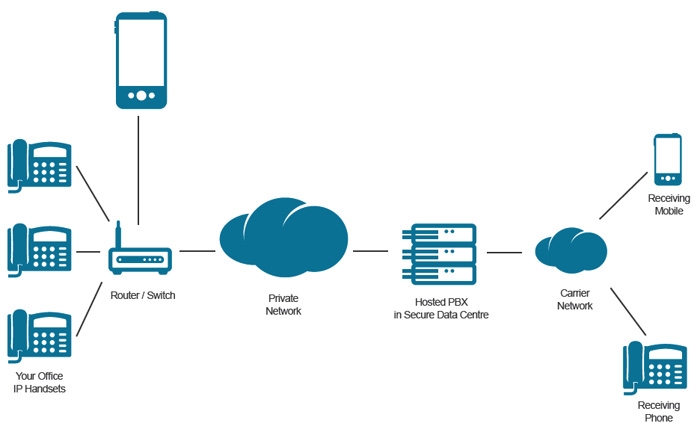 Choose Your IP Handsets
Cisco SPA 303

1 Line Entry Level
$176 inc-GST

Cisco SPA 504G

4 Line General User
$198 inc-GST

Cisco SPA 525G

5 lines Premium
$440 inc-GST

Polycom IP331

2 Line Entry / General
$220 inc-GST

Polycom IP450

3 line Executive
$374 inc-GST

Polycom IP650

6 line Premium
$525 inc-GST
Choose Your Router / Switch
Draytek 2860n

Triple WAN, Built in DSL modem for ADSL2+, 6-port Gigabit LAN Switch, Wireless

$550 inc GST

Draytek 2710n

ADSL 2+ Modem, Router, 4 Fast Ethernet LAN, Wireless.

$320 inc GST

Cisco SF302-08P

8 POE Ports, Automatic QoS Provisioning

$495 inc-GST

Cisco SF300-24P

2 x combo GB + 2 x 10/100/1000, PoE, VLAN, QoS Provisioning

$869 inc-GST
Note: Non-approved hardware will not be supported and will receive a best effort SLA.
All prices quoted above Inc GST.
Things You Should Know
In order to access the service, you will need a dedicated fixed line broadband Internet connection, such as ADSL 2+you will also need an IP Phone and may need extra hardware depending on your set up e.g. router and switches.
We recommend that the Service be accessed with hardware supplied or approved by us, using a broadband ADSL or SHDSL service supplied by us to our specifications. The Service is designed to allow users to bring their own device, but we do not offer any guarantee or assurance that all devices will be compatible and function with the Service.
The broadband speed required for the Service will depend largely on your network demands. Data transmission demands on your network may cause the bandwidth available for voice transmission to be limited if voice and data share the same connection.
Extra charges will be incurred for freight for any hardware.
Minimum 10 DID numbers purchased in blocks of 10.
Porting is charged per end user site.
International Calls are allowed by default, if you require this feature to be blocked you will need to contact us.